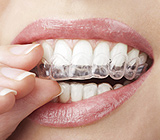 Your dental appliance plays a big role in restoring function and improving your appearance. Taking proper care of it will ensure it can do that for a long time.
Cleaning is a top priority. Though it might seem natural to use toothpaste, you should avoid using it on your appliance. The abrasives in toothpaste are necessary to break up plaque on natural teeth's hard enamel surfaces, but will leave micro scratches on the surface of your appliance that eventually become havens for bacterial growth — a sure recipe for discoloration and unpleasant odors. If you plan to use boiling or hot water to disinfect your appliance, don't. The heat distorts the plastic and can disrupt its precise mouth fit. You should also avoid using bleach because it can break down the composition of the plastic, can leave a strong odor, and can whiten the pink "gum tissue" areas of the denture.
Instead, use plain liquid detergent or hand soap with warm water to clean your appliance — and use a brush designed for it rather than your toothbrush. If you have a long-term appliance like a denture, you might consider investing in an ultra-sonic cleaner that uses high frequency sound vibrations to clean out small crevices a brush can't reach.
Remember the old saying, "familiarity breeds contempt?" With dental appliances, too much time in the mouth breeds bacteria. Dentures, for example, should be taken out at night to allow saliva and its antibacterial capacity to work in your mouth. You also should be on the lookout for signs of infection — if anything appears amiss, contact us for an exam as soon as possible to minimize the effects of tooth decay or gum disease.
One final item: be careful where you place your appliance when it's not in your mouth. Lying out in the open (like on a nightstand) is a tempting lure for the family pet or a curious child. Keep it in its case in accordance with the care instructions given you when you received your appliance.
Doing the right things — and avoiding the wrong things — when caring for your dental appliance will go a long way to increasing its life and reducing problems along the way.
If you would like more information on caring for your oral appliance, please contact us or schedule an appointment for a consultation.