Posts for: January, 2013
By Z Dentistry
January 15, 2013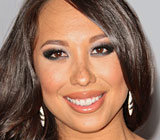 If you've ever watched Dancing with the Stars on television, you've no doubt noticed the vivacious and talented Cheryl Burke, whose ballroom dance moves are as captivating as her bright smile. In fact, Cheryl considers her smile to be one of her most important assets as a professional dancer.
"As a performer, you're basically smiling the whole time," Cheryl told Dear Doctor magazine recently in an exclusive interview. "It's just really important to take care of your teeth and have a great smile."
Cheryl is very conscientious about caring for her smile, but that wasn't always the case. In the Dear Doctor interview, Cheryl revealed that her teeth suffered from ineffective oral hygiene when she was younger. "I definitely had my share of cavities," Cheryl recalled, adding that she believed this was her own fault. "I didn't use floss," She explained. "I think when you do floss frequently, it helps to reduce the chances of getting cavities. It took me a while to figure it out."
Once Cheryl did figure it out, she was able to make cavities a thing of the past. But in order to make sure the effects of her prior tooth decay did not mar her lovely smile, she made sure her dentist — who is also her stepdad! — gave her tooth-colored fillings that could not be distinguished from the surface of a natural tooth. "It's important for me," Cheryl said.
Lots of dental patients feel the same way, even if they don't spend time in front of television cameras. That's why the dental profession has developed tooth-like materials such as composite resins and porcelains that mimic natural tooth material exactly. These materials are also suitable for children's teeth and can incorporate fluoride to reduce tooth decay. It's even possible to replace old silver-colored fillings with these newer dental materials.
If you would like to learn more about tooth-colored fillings, please contact us to schedule an appointment for a consultation. To read Dear Doctor's entire interview with Cheryl Burke, please see "Cheryl Burke." Dear Doctor also has more on "The Natural Beauty of Tooth-Colored Fillings."
By Z Dentistry
January 05, 2013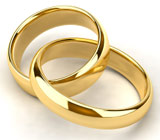 For a bride, there is so much to remember when planning the wedding — invitations, a dress, flowers, the site, the caterers, the cake, the photographer — the list goes on and on. In the midst of all these things, don't let a very important piece of the plan be forgotten — your smile!
Your wedding will be celebrated every year on your anniversary and commemorated in beautiful photos at any time. It is a special occasion you, your family, and your friends will always remember. But how will you and your family look in those photos? You have an opportunity to get makeovers that will make your smiles shine radiantly, and not only in your album. Your makeover will improve your appearance, your self-confidence, and your oral health far into the future.
Start with a visit to your dentist to assess your current situation and discuss your goals and dreams. Each person's situation will be different. At a minimum you may need a professional cleaning to make sure that your teeth and gums are healthy. Get started on treating any cavities or gingivitis (gum inflammation). If you haven't already, now is a great time to establish healthy dental hygiene habits including proper daily brushing and flossing.
You may feel that your teeth are discolored and need to be whiter and brighter. Your upper and lower jaws may not meet properly for the most effective biting and chewing. Your teeth may be crowded or misshapen. All these things and more can be modified and repaired with today's dentistry.
Teeth can be whitened by bleaching in the dentist's office or with products that can be used at home under a dentist's supervision.
Orthodontia may be needed to repair your bite. Today orthodontia may be done either with traditional braces, or with clear aligners. Remember that this process works slowly, so start well in advance of your wedding day.
After your teeth are properly aligned, your dental team can work on subtle contouring, overall shape and color changes for individual teeth, using techniques such as porcelain laminate veneers. Temporary veneers can be made so that you can try out your new look before the final installation.
Wedding planning works best when started early. To make sure you, your new spouse, and your family look and feel their best, remember to include smile makeovers in your plan.
Contact us today to schedule an appointment to discuss your questions about wedding smile makeovers. You can also learn more by reading the Dear Doctor magazine article "Wedding Day Smiles."