Posts for: December, 2013
By Z Dentistry
December 24, 2013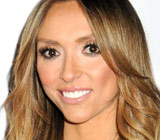 When Giuliana Rancic, long-time host of E! News, first saw her new son, she said it was "the best single moment of my life." Recently, on the eve of Duke's first birthday, the TV personality and reality star spoke to Dear Doctor magazine about her growing family, her battle with cancer — and the importance of starting her child off with good oral health.
"Duke will have his first visit with the dentist very soon, and since he is still a baby, we will make his visit as comfortable as possible," Giuliana said. That's a good thought — as is the timing of her son's office visit. Her husband Bill (co-star of the couple's Style Network show) agrees. "I think the earlier you can start the checkups, the better," he said.
The American Academy of Pediatric Dentistry concurs. In order to prevent dental problems, the AAPD states, your child should see a dentist when the first tooth appears, or no later than his or her first birthday. But since a child will lose the primary (baby) teeth anyway, is this visit really so important?
"Baby" Teeth Have a Vital Role
An age one dental visit is very important because primary teeth have several important roles: Kids rely on them for proper nutrition and speech, and don't usually begin losing them until around age 6. And since they aren't completely gone until around age 12, kids will depend on those "baby teeth" through much of childhood. Plus, they serve as guides for the proper position of the permanent teeth, and are vital to their health. That's why it's so important to care for them properly.
One major goal for the age one dental visit is to identify potential dental issues and prevent them from becoming serious problems. For example, your child will be examined for early signs of dental diseases, including baby bottle tooth decay which is a major cause of early childhood caries. Controlling these problems early can help youngsters start on the road to a lifetime of good oral health.
Besides screening your child for a number of other dental conditions or developmental problems, and assessing his or her risk for cavities, the age one visit also gives you the opportunity to ask any questions you may have about dental health in these early years. Plus, you can learn the best techniques for effectively cleaning baby's mouth and maintaining peak oral hygiene.
Breezing Through the Age-One Visit
To ease your child's way through his or her first dental visit, it helps if you're calm yourself. Try to relax, allow plenty of time, and bring along lots of activities — some favorite toys, games or stuffed animals will add to everyone's comfort level. A healthy snack, drink, and spare diapers (of course) won't go unappreciated.
"We'll probably bring some toys and snacks as reinforcements," said Giuliana of her son's upcoming visit. So take a tip from the Rancics: The age one dental visit is a great way to start your child off right.
If you would like more information on pediatric dental care, please contact us or schedule an appointment for a consultation. You can learn more about this topic in the Dear Doctor magazine articles "The Age One Dental Visit" and "Dentistry & Oral Health for Children."
By Z Dentistry
December 10, 2013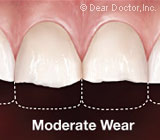 As life spans have increased over the last century so has the importance of maintaining good oral health. Teeth are such a critical component in good nutrition and disease protection, it's important we do all we can to preserve them for a lifetime.
Through advances in dentistry and oral hygiene, two of teeth's greatest enemies, dental caries (tooth decay) and periodontal (gum) disease, are not only quite treatable but even preventable. The fact remains, though, that like the rest of our body, our teeth are still subject to aging. The irreplaceable outer layer known as enamel is especially susceptible to wear over time.
The normal wearing down of teeth occurs because of occlusal (bite) activity. As our upper and lower teeth interact with each other through constant biting and chewing activities, some of the enamel surface naturally wears away as we age. Our biggest concern shouldn't be the wear itself but the rate of wear — whether it's exceeded the normal range.
Habits that increase the frequency and rate of biting forces are the most common reason for excessive enamel erosion. Such habits include excessive tooth-to-tooth contact as when we clench or grind our teeth and tooth-to-foreign object, the chronic habit of holding hard objects (nails, pencils, pins, etc.) tightly between the teeth. Many of these habits are a response to psychological stress that can even carry over into our sleep.
The key is to minimize these effects on the normal process of wear, and to protect teeth for as long as possible. How to accomplish that goal depends on your individual circumstance: treatments could include such things as orthodontics to correct bite problems that contribute to abnormal wear, considering restoring worn teeth with new crowns or fillings, or reducing grinding or clenching with nocturnal mouth guards or some form of stress-relief therapy.
In cases where abnormal wear has passed the point where it doesn't make sense to repair your natural teeth, all is not lost — restorations such as dental implants can help restore lost function and inhibit further erosion. Advances over the last thirty years in restoration techniques can, in effect, extend a new lease on life for your teeth. What's more, we can also restore form — to bring back that smile from your younger years.
If you would like more information on tooth erosion and aging, please contact us or schedule an appointment for a consultation. You can also learn more about this topic by reading the Dear Doctor magazine article "How and Why Teeth Wear."