Posts for: September, 2017
By Z Dentistry
September 15, 2017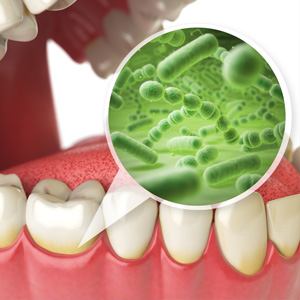 Here's a sobering statistic: you have a 50/50 chance over your lifetime for developing periodontal (gum) disease. And it's much more serious than irritated gums: if not treated aggressively you could experience bone loss, which can not only lead to tooth loss but actually increases your risk of heart attack and stroke.
Initially, you may not notice any symptoms unless you know what to look for: mainly red and puffy gums that frequently bleed during brushing and flossing. As the infection advances into the underlying support structures that hold teeth in place you may also notice receding gums (moving away from your teeth causing them to look longer), pus around the gums or lingering bad breath or taste. And one or more loose teeth are a definite sign the supporting structures have weakened severely.
So, how does gum disease happen? It starts with bacteria. Your mouth contains millions of these and other microorganisms, most of which are friendly and even beneficial. Unfortunately, a fraction of them can infect and harm tissues like the gums and underlying bone. Your mouth's defenses can normally handle them if their numbers remain low. But a bacterial population explosion can quickly overwhelm those defenses.
Bacteria are like any other life form: they need a secure environment and food. Disease-causing bacteria establish the former by utilizing proteins and other components of saliva to form a sticky biofilm on teeth known as plaque. Within the safe haven of dental plaque bacteria quickly multiply and form a complex and concentrated ecosystem feeding on remnant food particles, especially sugar and other carbohydrates.
The key to gum disease prevention (as well as treatment) is to deprive bacteria of their home and food source by removing plaque and its more hardened form calculus (tartar). You can manage plaque buildup by brushing and flossing daily, seeing your dentist regularly for cleanings to remove any remaining hard-to-reach plaque and calculus, and eating a nutritious diet with fewer sweets or other carbohydrate-rich snacks.
You can further lower your disease risk by avoiding smoking and other tobacco products and moderating your consumption of alcohol. And be sure to see your dentist as soon as possible if you notice any signs of infection with your gums. Taking these steps can help you avoid gum disease's destructiveness and help preserve a healthy and attractive smile.
If you would like more information on gum disease, please contact us or schedule an appointment for a consultation.
By Z Dentistry
September 11, 2017
Choosing the best dental restoration for you can often prove to be a challenge if you are not familiar with your options. However,
understanding some of these procedures can help you come to a conclusion which best fits your needs. Dental veneers can do many things to beautify your smile. Find out more about dental veneers with Dr. George Zatarain at Z Dentistry in Reno, NV.
Do I need dental veneers?
If you feel as though your teeth could use a boost due to small imperfections or discolorations, you may benefit from dental veneers. Some of the most common uses for veneers include repairing:
chipped teeth
cracked teeth
uneven teeth
slightly overlapped teeth
slightly gapped teeth
yellowed teeth
stained teeth
Veneers can also alter the size and shape of the teeth, giving you the big, Hollywood smile you have always wanted.
The Benefits of Dental Veneers
The biggest benefit of dental veneers is that they allow you to choose the kind of smile you have. Whether you are repairing a single tooth or opt to renew your entire smile, veneers put you in control of the way you look. Thanks to their materials and the customization process, porcelain dental veneers blend in with the rest of your smile and look just like natural teeth. Dental veneers are stain-resistant, helping you keep your teeth whiter for longer. The natural teeth remain almost entirely intact with veneers, as opposed to other porcelain restorations like dental crowns.
Dental Veneer Treatments in Reno, NV
Dental veneers require that the patient have healthy teeth free from decay and gum disease. Additionally, veneers patients should have a strong, committed at-home oral care routine consisting of brushing at least twice and flossing at least once per day. This oral care routine should occur alongside regular dental examinations and cleanings every six months. If you think you could benefit from veneers, you should determine if this is the best treatment for you at a consultation with your dentist.
For more information on dental veneers, please contact Dr. Zatarain at Z Dentistry in Reno, NV. Call (775) 331-1616 to schedule your appointment with Dr. Zatarain today!