Posts for: October, 2020
By Z Dentistry
October 20, 2020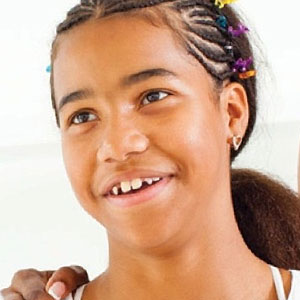 On the way to adulthood, permanent teeth steadily erupt until, if all goes normally, you have a full set of teeth. Sometimes, though, one or more teeth may fail to form. This not only can affect your dental health, but it could also diminish your smile.
For example, if the lateral incisors on either side of the central incisors (the two teeth front and center) don't develop, it could create a smile that's "not quite right." But we can vastly improve such a smile in one of three unique ways.
The first is to fill the resulting gap through canine substitution. This is an orthodontic method in which we use braces to move the pointed canine teeth, which normally position on the other side of the missing laterals, closer to the central incisors. This choice is determined by the size of the canine teeth. If they are slim in width, they can be re-shaped to make them appear more like a lateral incisor, and the gums possibly reshaped as well around them through cosmetic surgery.
We can also install a dental bridge, an appliance that fills the missing lateral space with prosthetic teeth. A traditional bridge requires the teeth on either side of the gap to be reduced in size, which becomes a permanent alteration to accommodate these crowns. This is a disadvantage in a young person.  We can also use a "bonded bridge" which uses adhesives to attach extended pieces (or "wings") of dental material from either side of the prosthetic tooth to one or more supporting teeth.  These wings are behind the permanent teeth.  Though not as durable as a traditional bridge, it does avoid altering the support teeth.
Finally, we can replace the missing teeth with dental implants. In this method, we install titanium metal posts into the jawbone at the missing tooth locations and then attach a life-like crown to each one. Implants may be more costly than other restorative methods and can take several months to complete. But they are life-like, highly durable, and don't require any alteration to other teeth. A disadvantage is that you should wait until at least 19 years of age to consider this option.  What many people do is use a temporary solution until the proper age to do a dental implant.
Each of these methods have their advantages and disadvantages, which should be thoroughly reviewed in consultation with your dentist. And each may also require other dental work, such as initial orthodontics to open adequate space for a restoration. But any of these methods for correcting a missing lateral tooth can be effective and help restore both a healthier mouth and a more attractive smile.
If you would like more information on treating congenital dental defects, please contact us or schedule an appointment for a consultation. You can also learn more about this topic by reading the Dear Doctor magazine article "When Permanent Teeth Don't Grow."
By Z Dentistry
October 10, 2020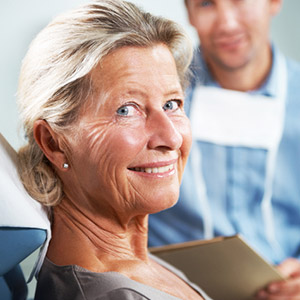 October is National Dental Hygiene Month, when we call attention to the importance of keeping those pearly whites clean. Brushing and flossing, along with regular dental cleanings, protect your teeth and gums from dental disease. It might also lessen the risk or severity of heart disease, arthritis—or even dementia or Alzheimer's disease.
Sound far-fetched? A number of years ago, researchers noticed that people with periodontal (gum) disease were also more prone to systemic conditions like chronic heart and lung diseases, diabetes or rheumatoid arthritis. The common thread: inflammation, the body's response to infection or trauma.
Inflammation in and of itself is a necessary part of the healing process. But if it becomes chronic, as it often does with a gum infection and these other systemic diseases, this defensive response meant to aid healing can instead damage tissues.
We've also learned that inflammation arising from gum disease may worsen inflammation associated with other systemic conditions. It can work the other way as well: If you have an inflammatory disease, your risk for gum disease goes up and any gum infection can be more acute.
What we've learned recently, though, might be even more concerning: Results from a recent study are showing some evidence of a link between gum disease and dementia and decline in cognitive ability. The study, published in the journal Neurology this past July, followed approximately 8,000 Americans for twenty years. Participants came from a variety of locations and demographic subsets, and were on average in their early sixties with no signs of dementia at the beginning of the study.
Of the participants who completed the study, about 19% had developed dementia. Of these participants, those with severe gum disease and tooth loss were slightly more likely to have dementia than subjects with healthy teeth and gums.
At the very least, these studies raise more questions about the connections between oral and general health, calling for further exploration. One thing's for sure, though—healthy teeth and gums play an important role in the overall quality of life and health. The time and effort required for the following are well worth it to maintain a healthy mouth.
Brush and floss your teeth every day without fail;
Visit your dentist at least twice a year for professional cleanings;
Eat a "tooth-friendly" diet low in sugar and rich in vitamins and minerals (especially calcium);
See your dentist as soon as possible if you notice swollen, reddened or bleeding gums.
We all want to stay fit and active throughout our senior years. Taking care of your teeth and gums—especially with daily oral hygiene—is a key part of the formula for a long and happy life.
If you would like more information about the importance of dental hygiene to overall health, please contact us or schedule a consultation. To learn more, read the Dear Doctor magazine article "10 Tips for Daily Oral Care at Home."