Posts for: June, 2021
By Z Dentistry
June 10, 2021
Your smile is one of the first things people notice about you. Unfortunately, if your teeth are dull, damaged, or flawed, you may not feel like sharing your smile with the world. Veneers, a restoration option offered by your Reno, NV, dentist, Dr. George Zatarain of Z dentistry, will enhance your smile and hide a variety of tooth flaws.
When veneers are a good idea
Veneers are tooth-shaped shells created from a mold of your mouth to ensure a perfect fit. Each plastic or porcelain veneer is cemented to the front of a tooth, hiding imperfections and minor damage.
Adding one or more veneers may be a good idea if:
You have a crooked tooth: Orthodontic treatment isn't always needed if you have just one or two crooked teeth. In fact, after your veneer is applied to your tooth, it will look perfectly straight.
Your tooth is oddly shaped: You would think that all of your teeth would be roughly the same size and shape, but that's not always the case. Luckily, veneers make twisted, pointed, or other oddly shaped teeth look perfectly uniform.
You have a short tooth: Have you noticed that some of your teeth look a little shorter now? The problem can be due to grinding or clenching your teeth while you sleep or years of wear and tear. Veneers extend the length of your teeth, improving the appearance of your smile.
You have a gap between your teeth: Adding veneers offers a simple way to close slight gaps between teeth. (If you have a large gap, orthodontic treatment may be the best solution.)
Your tooth is discolored: Stains from antibiotics or tooth trauma or discoloration from large fillings can darken teeth. Covering discolored teeth with veneers instantly improves your appearance.
You'd like a brighter smile: In addition to covering discolored teeth, veneers can also be used to whiten your entire smile. During your visit to the Reno dental office, you'll select the perfect shade of white for your new smile.
Your tooth is damaged: Veneers are an excellent choice if a chip or shallow crack affects your smile. They can also make your tooth enamel look smoother if it's a little bumpy.
Makeover your smile with veneers! Call your dentist in Reno, NV, Dr. George Zatarain of Z dentistry, at (775) 331-1616 to schedule your appointment.
By Z Dentistry
June 07, 2021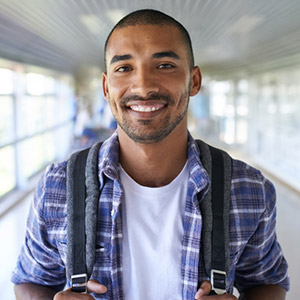 Though it sounds like an elite academic society, "The Freshman 15" is anything but. The phrase stands for the weight, pegged at 15 pounds, that many incoming students gain in their first few months at college—the result of poor dietary habits brought on by a hectic schedule and newfound freedoms.
These and other habits have consequences—and not just for unwanted pounds. Many can lead to dental problems, which could continue to overshadow a student's oral health long after college is over.
Here, then, are 5 tips to pass along to your newly minted college student (or anyone else, for that matter) to keep their teeth and gums as healthy as possible.
Brush and floss daily. While a hectic course load beckons, a student should still make time every day to brush and floss their teeth. Along with regular dental cleanings, these two tasks remove the daily buildup of plaque, a bacterial film that causes dental disease. Daily oral hygiene is good insurance against developing future tooth decay and gum disease.
Cut back on sugar. A student may rely on sugary snacks for a boost of energy throughout their day, but it could be setting them up for dental disease. That's because harmful oral bacteria also feed on sugar. Choose instead real, whole foods and snacks that are better for teeth—and for avoiding those dreaded freshman pounds.
Limit acidic beverages. Besides added sugar, sodas, sports and energy drinks also contain acid, another ingredient unfriendly to teeth. During prolonged contact, acid softens and erodes the mineral content in tooth enamel, opening the door to tooth decay. Those who drink these kinds of beverages should limit their consumption as much as possible.
Don't smoke. Smoking dries out the mouth, preventing saliva from buffering the acid that causes tooth decay. Its main ingredient nicotine restricts the mouth's blood vessels, further increasing the chances of dental disease. Tobacco use in general, including smoking, is also a key risk factor for oral cancer.
Avoid mouth "jewelry." It might be the bomb on campus, but lip rings, tongue bolts and other mouth jewelry can cause dental damage. Besides the possibility of chipped teeth, metal jewelry in or around the mouth is more likely to cause infection. Better to skip this fashion statement for healthier teeth.
If you would like more information on good oral practices, please contact us or schedule an appointment for a consultation. You can also learn more about this topic by reading the Dear Doctor magazine article "10 Health Tips for College Students."