Posts for: September, 2021
By Z Dentistry
September 15, 2021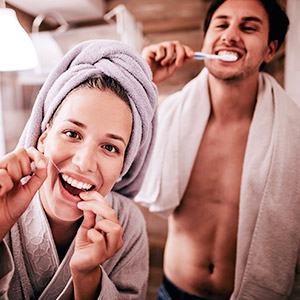 If you like conundrums like "Which came first? The chicken or the egg?", then you may enjoy this one: "Which should you do first, brush or floss?"
Both of these oral hygiene tasks are equally important for removing dental plaque, a thin bacterial film that forms on teeth after eating. Removing plaque on a daily basis minimizes your risk for developing tooth decay or periodontal (gum) disease, the top causes for tooth loss. Brushing removes plaque from broad tooth surfaces, while flossing removes it from between teeth where brushing can't reach.
There is wide consensus that you need both brushing and flossing to thoroughly remove plaque. But there is a debate over which of these two tasks you should do first for the most effective outcome. Those debates are more or less good-natured, but there are proponents on both sides on which task should come first.
Those on the "Brush First" side say brushing initially gets the bulk of accumulated plaque out of the way. If you floss first, you may be plowing through a lot of soft plaque, which can quickly turn your floss into a gunky mess. More importantly, you may only be moving plaque around with the floss, not actually removing it. By brushing first, there's less plaque to deal with when flossing.
"Floss First" folks, though, say flossing before you brush loosens plaque stuck between teeth that can be more easily brushed away. But perhaps a more important reason is psychological: People don't really like flossing as much as brushing. Because of this, putting it off to the end may mean it doesn't happen; doing it first will help ensure it actually gets done.
In the end, though, the order you perform these tasks comes down to personal preference. You can try both ways to see which one suits you best. The important thing, however, is that you do both tasks—if you do, you can greatly lower your risk of dental disease that could rob you of your teeth.
If you would like more information on effective oral hygiene, please contact us or schedule an appointment for a consultation. You can also learn more about this topic by reading the Dear Doctor magazine article "Brushing and flossing: Which Should Be Done First?"
By Z Dentistry
September 05, 2021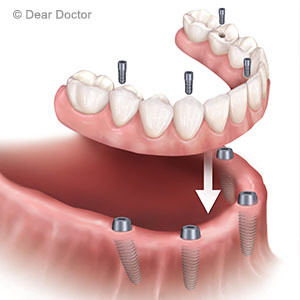 Losing all your teeth can dramatically impact your life for the worst. Fortunately, we can give you your "teeth" back. The most common way, at least until a few decades ago, is with custom dentures, which reasonably restore life-like appearance and dental function. But it does have one major drawback—it can't stop bone loss.
Loss of bone in the jaws often occurs with missing teeth. Normally, the bone continuously generates newer cells to replace older ones that have died. Chewing stimulates this growth as the force generated travels up through the teeth to the bone. But when teeth go missing, new bone growth slows, eventually causing the bone's volume and density to decrease.
Dentures can't reactivate this lost stimulation, and so bone loss may continue. Dentures even accelerate this loss as the compressive forces applied to the bony ridge are detrimental. This often leads to a "loosening" of a denture's fit that can make them uncomfortable and less secure to wear.
Today, however, patients with total tooth loss have another option that could alleviate the problem of bone loss—dental implants. Since their inception forty years ago, implants have become the preferred method of both dentists and patients for tooth replacement.
Implants consist of a titanium metal post that's surgically imbedded into the jawbone. Bone cells are attracted to this particular metal, readily multiplying and adhering to the implant's titanium surface. Because of this, an implant can slow or even stop bone loss.
Most people are familiar with the single tooth implant with an attached lifelike crown. Although this use of implants could be used to restore total tooth loss, it can be quite costly replacing over two dozen teeth individually.
But implants could still be part of the answer for someone with complete tooth loss, because they can also be used to support traditional restorations. A few implants strategically placed around the jaw can support either a removable denture or a fixed bridge.
Besides being a cost-effective way to add support to these traditional tooth replacements, the inclusion of implants will likely decrease continuing bone loss. Most importantly, it can give you back your dental function—and your smile to boot.
If you would like more information on dental implant options, please contact us or schedule an appointment for a consultation. You can also learn more about this topic by reading the Dear Doctor magazine article "New Teeth in One Day."