Posts for tag: vaping
By Z Dentistry
August 11, 2020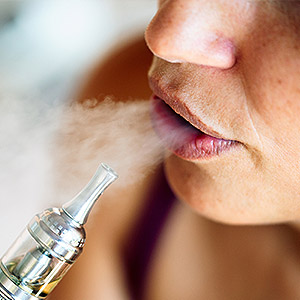 There's ample evidence tobacco smoking increases your risk for tooth decay and periodontal (gum) disease. But the same may be true for electronic cigarettes (E-cigs): Although millions have turned to "vaping" believing it's a safer alternative to smoking, there are growing signs it might also be harmful to oral health.
An E-cig is a device with a chamber that holds a liquid solution. An attached heater turns the liquid into a vapor the user inhales, containing nicotine, flavorings and other substances. Because it doesn't contain tar and other toxic substances found in tobacco, many see vaping as a safer way to get a nicotine hit.
But a number of recent research studies seem to show vaping isn't without harmful oral effects. A study from Ohio State University produced evidence that E-cig vapor interferes with the mouth's bacterial environment, or oral microbiome, by disrupting the balance between harmful and beneficial bacteria in favor of the former. Such a disruption can increase the risk for gum disease.
Other studies from the University of Rochester, New York and Universit? Laval in Quebec, Canada also found evidence for vaping's negative effects on oral cells. The Rochester study found astringent flavorings and other substances in vaping solutions can damage cells. The Quebec study found a staggering increase in the normal oral cell death rate from 2% to 53% in three days after exposure to E-cig vapor.
Nicotine, E-cig's common link with tobacco, is itself problematic for oral health. This addictive chemical constricts blood vessels and reduces blood flow to the mouth's tissues. This not only impedes the delivery of nutrients to individual cells, but also reduces available antibodies necessary to fight bacterial infections. Regardless of how nicotine enters the body—whether through smoking or vaping—it can increase the risk of gum disease.
These are the first studies of their kind, with many more needed to fully understand the effects of vaping on the mouth. But the preliminary evidence they do show should cause anyone using or considering E-cigs as an alternative to smoking to think twice. Your oral health may be hanging in the balance.
If you would like more information on the effects of vaping on oral health, please contact us or schedule an appointment for a consultation.
By Z Dentistry
April 03, 2020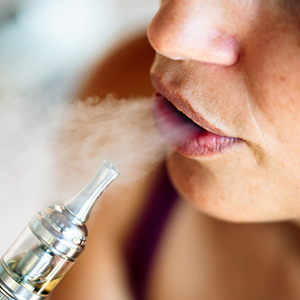 The first week of April is National Public Health Week, putting the spotlight on health issues that impact us all. The popular practice of vaping is one of those top issues this year due to its connection with recent lung illnesses and deaths. But this isn't a new problem—dentists have been critics of vaping for some time now over the growing evidence of its effect on oral health.
Vaping is the popular term for inhaling aerosol vapors through an e-cigarette (or e-cig for short). The electronic device contains a small reservoir filled with flavored liquids that contain nicotine and other chemicals. The device heats the liquid, turning it into a vapor that's inhaled or "vaped" into the lungs.
Vaping has been touted by proponents as a safer alternative to cigarette smoking. But there's growing evidence that vaping isn't a kinder and gentler way to "smoke." A good portion of that evidence comes from dentists who routinely treat oral problems caused or worsened by vaping.
In reality, the adverse effects of vaping on oral health aren't much different from smoking. Like smoking, vaping ingredients can irritate the inside of the mouth and cause dryness, an ideal environment for dental disease. And nicotine, the main chemical in both vaping and smoking, constricts blood vessels that deliver nutrients and disease-fighting antigens to the gums and teeth.
If these hazards weren't bad enough, recent clinical findings seem to indicate they're only the tip of the iceberg. Researchers from New York University's (NYU) College of Dentistry have found evidence from a combined study of cigarette smokers, e-cig users and non-smokers that vaping may significantly alter the mouth's microbiome to the ultimate detriment of oral health.
A "microbiome" is a term describing the intricate relationship between the millions of microorganisms inhabiting the human body and the body itself. While a few are malicious, many, namely in the gut and mouth, help the body obtain nutrients from food and fight against disease. Disrupting that delicate balance opens the door to diminished health.
The NYU researchers found that both smokers and e-cig users had higher levels of pathogenic bacteria in their saliva than non-smokers, suggesting both habits disrupted the mouth's microbiome balance enough to allow less benevolent bacteria to flourish. They also found that both smokers and e-cig users had significantly higher incidences of gum disease (72.5% and 42.5%, respectively) than non-smokers (28.2%).
If you're a smoker, a cessation program to quit the habit—not switching to vaping—is the way to a healthier life. If you would like more information about the effects of vaping on your oral health, please contact us or schedule a consultation. To learn more, read the Dear Doctor magazine article "Vaping and Oral Health."